On February 27, Prof. Thomas Foscht, Dean of the School of Business, Economics and Social Sciences at the University of Graz, Austria and his wife paid a visit to Nankai Business School (NBS). Meeting with the guests were Bai Changhong, Dean of NBS, Li Yuelin, Vice Dean of NBS, and Prof. Zhang Yuli and Prof. Xu Hui. The two sides held amicable talks in terms of bilateral cooperation and exchanges.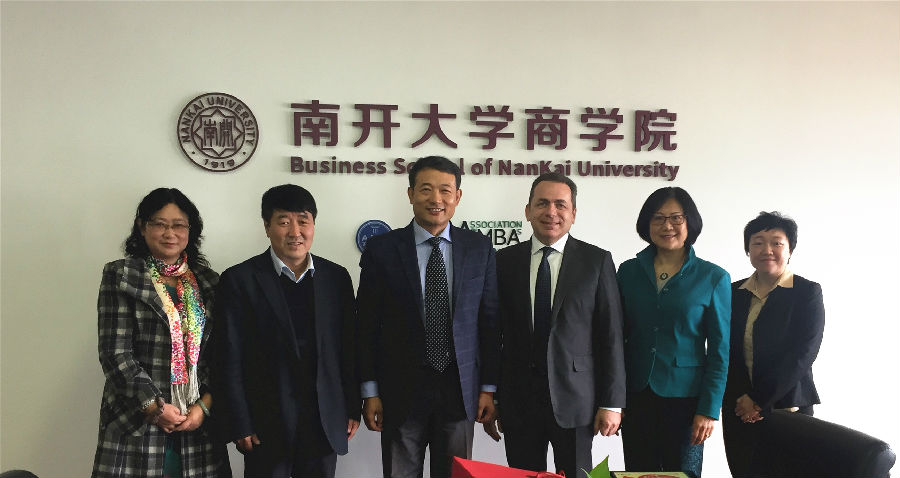 First, Pro. Bai extended a warm welcome to Dr. Foscht for his second visit to NBS after 2012, when he led a group of EMBA students to visit here. Nankai Business School is boosting the strategy of internationalization, said Dean Bai, with over 30 cooperative institutions all over the world, we are pursuing an expansion of the global strategic partnership network." He expected that Prof. Foscht's visit this time would lead to close and diversified cooperation between the two schools, thus forming an effective platform for faculty and student exchanges.
Following the Dean's welcome remarks, Prof. Li Yuelin briefed on the historical development, programs, and particularly, international exchanges of NBS. She also expressed the willingness to build up extensive links with renowned universities and to encourage students to participate in overseas exchanges. And she hoped that more exchange opportunities would be created for the two school's faculties and students through more cooperative programs between the two.

Then Dr. Foscht expressed his gratitude for their hospitality. "I'm so glad to visit Nankai again after 6 years' time," said him, "the University of Graz and the Nankai University has a long history of exchanges." Based on the university-level friendly cooperation, he is willing to carry out the school-level exchanges and to establish in-depth cooperative relations with the NBS in terms of the predominant disciplines of the two schools.
Afterwards, the two sides explored cooperation in commonly concerned areas, and reached preliminary agreement regarding student exchanges, faculty cooperative research, joint seminars, and cooperative degree programs, etc.
The University of Graz, founded in 1585, is Austria's second oldest university and one of the largest in the country. The 18 departments of the School of Business, Economics and Social Sciences offer bachelor, master and PhD degree programs and boast such preponderant disciplines as Innovative Entrepreneurship, Finance, and Marketing, etc.. Joseph Schumpeter, one of the most influential economists and proposer of the Innovation Theory, was a professor and dean at the school.