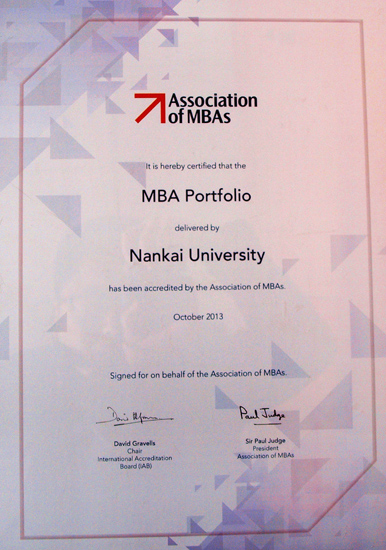 AMBA Accreditation
The Association of MBAs (AMBA), after two months of thorough review on the school's application, confirmed on Nov. 27th 2014 that the MBA & EMBA programs of Nankai Business School were accredited by the Associations' International Accreditation Advisory Board. The confirmation signified Nankai's membership of the AMBA.
The length of accreditation period offered to NKBS is five year and the re-assessment is expected in 2018. The successful AMBA accreditation is of great significance to boosting the global profile of Nankai Business School as it helps promote its internationalization, advance its participation in the educational rankings of international business schools, and improve the international competitiveness of its MBA/EMBA students.
AACSB Accreditation
Nankai Business School started to apply the AACSB accreditation in 2010. The Standards Alignment Plan was completed in 2012 and has been successfully approved by Initial Accreditation Committee in 2013.
The accreditation process begins with the submission and approval of a Standards Alignment Plan. Once a school's Standards Alignment Plan is approved, it will enter the PreAccreditation phase. And after meeting all the AACSB's Accreditation Standards and completing the PreAccreditation requirements, it will be recommended for Initial Accreditation. All AACSB-accredited institutions must enter the Maintenance of Accreditation process every five years.
Nankai Business School earned Accreditation by AACSB for five years in 2016.