On October 31, Ajay Vinze, Dean of the School of Business, University of Missouri Columbia and Ms Gay Albright, Director of International Exchange Office, Dr. Zou Shaoming, chair professor of Nankai University paid a visit to Nankai Business School (NBS). Meeting with the guests were Bai Changhong, Dean of NBS, Li Yuelin, Vice Dean of NBS, and Prof. Xu Hui. The two sides held amicable talks in terms of bilateral cooperation and exchanges.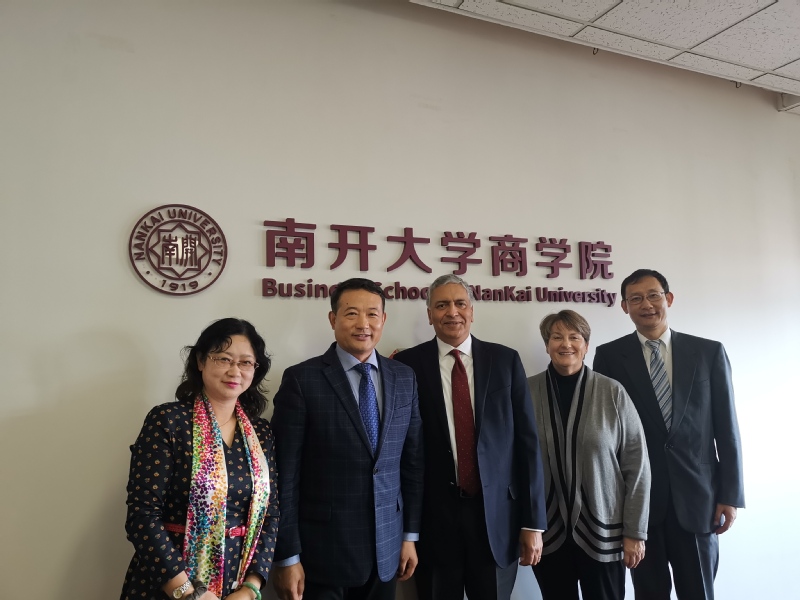 Pro. Bai extended a warm welcome to them for their second visit this year. He expressed that Nankai University will celebrate its 100th Birthday in 2019. Nankai Business School is boosting the strategy of internationalization and pursuing an expansion of the global strategic partnership network.
Ajay Vinze expected that this visit would lead to close and diversified cooperation between the two schools, thus forming an effective platform for faculty and student exchanges.
Afterwards, the two sides explored cooperation in commonly concerned areas, and reached preliminary agreement regarding student exchanges, faculty cooperative research, joint seminars, etc.
University of Missouri Columbia was founded in 1839 as the first public university west of the Mississippi River. Based on quality of teaching, research and scholarship, MU is one of the country's most distinguished Ivy League universities. School of Business, University of Missouri Columbia was founde in 1914 and got AACSB accreditation in 1926. School of Business ranked 69 in U.S. Business Schools 2018.